October, what a ride! For those who stuck it out in the US markets, courage was rewarded by month-end. This was in line with our expectations, not only due to the time of year, but also because the selloff seemed more in sympathy to foreign markets than based on any real domestic issues.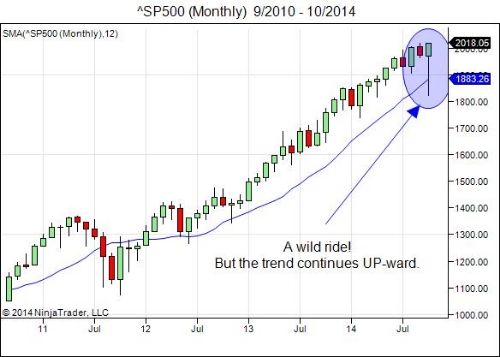 …
The chart at left shows a Monthly view of the S&P 500. Even after the rollercoaster ride of October, the overall trend still looks positive. October's long tail on this chart hints at the drama that the month held. If we look at the month up close, (day by day chart below), the move feels a little more drastic.
…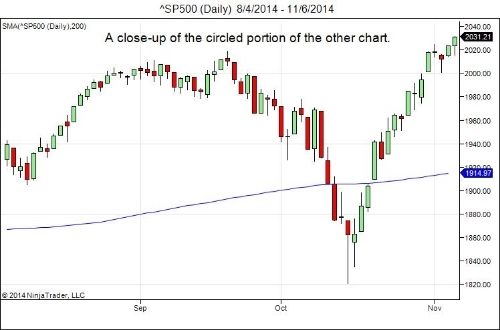 This is a great way to get perspective of what is really happening. How bad are things, really? When the media is full of doom and gloom, it can be helpful to back off and see things in the larger-picture perspective. This can help keep a cool head and help make good decisions.
…
…
…
But that isn't the only good news to speak of. Now that the election is behind us, we can turn our attention to the upcoming holiday season! And no matter if your political "team" won or lost, we hope you find solace in knowing that the current political configuration (Democrat as president with Republican controlled House AND Senate) has the best historical odds for a positive stock market performance. And that is good for everyone!
…
Going forward, we expect the up-trend to continue: not only because we can put the elections behind us, but also because we are coming into the part of the year which often includes a "Santa Claus" Rally. Ho Ho Ho all the way to the bank! At least that is how the theory goes.
…
Historically, the holiday season is a time when you don't want to bet too heavily against the stock market. It's typically a time of "good cheer" in the markets. Overall, we seem to be looking at a perfect storm of positive metrics. As always, we must be ever vigilant about the black swans, so we don't end up with a lump of coal.
…
Gold – We don't normally comment on precious metals, but a few things we looked at recently indicate it may be headed to the 1030 level. If you are STILL hanging on to gold from the run-up a few years back, you may want to keep this in mind. We don't see much reason for a big recovery any time soon. Another interesting thought is, when the price of gold dips below 1200, it may not even be worth the miners' time to dig for the resource, due to the costs associated with mining. In other words, the metal may no longer be so "precious."